Get started,

Choose a Joint Supplement,

Start learning

about our Products
Flexcin with CM8®
Flexcin with CM8® is the most comprehensive joint care supplement available. To properly combat joint pain and stiffness, a quality supplement must include a combination of ingredients that will lubricate the joints, reduce inflammation and nourish cartilage.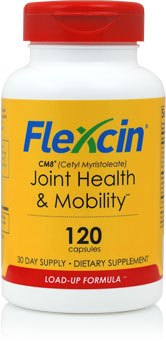 The Load-up Formula is perfect for those just getting started. It contains the same powerful ingredients as our other formulas, just in higher concentrations to provide fast relief by "loading up" your system. People with severe joint conditions may prefer to remain on Load-Up a little longer (3-6 months) before transitioning to the Joint Maintenance Formula.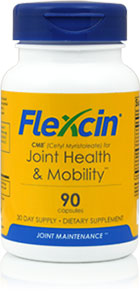 The Joint Maintenance Formula is designed to promote long term joint health by supporting stronger cartilage, lubricating joints, and reducing inflammation. The precise amount of each of our key ingredients have been chosen to provide maximum benefit when taken daily for optimum joint health. The proprietary blend of CM8®, Glucosamine, MSM, and Hydrolyzed Collagen Type II works to facilitate maximum mobility and flexibility. The Joint Maintenance Formula helps to regulate continuous joint health and functionality for enhanced mobility and flexibility.  Guaranteed.  Made in the USA.
Flexcin® Motion Lotion w/ CM8® is a topical cream that can be safely used to provide fast relief for symptoms of sports injuries, repetitive movement, inflamed joints, neck and low back strain or sprain, muscular and joint aches and some types of nerve inflammation. The Motion Lotion is a great complement to the Flexcin capsules. Since the results felt from Flexcin capsules may take longer to get to the root of the problem, the Motion Lotion can be supplemented to provide fast-acting, topical relief.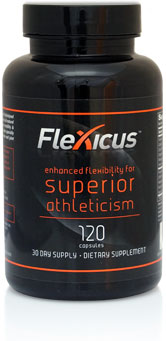 Flexicus™ contains CM8® (Cetyl Myristoleate) and Hydrolyzed Collagen Type II. Clinical studies have shown these all-natural ingredients promote optimal joint health, improve mobility & flexibility and nourish cartilage.** Flexicus™ has been specifically formulated to support an enhanced range of motion and joint strength to help maximize athletic performance. Our Ironclad Guarantee: It works or you don't pay! We know Flexicus is one of the few supplements that genuinely delivers on its promises and exceeds expectations. In fact, we're so confident of this that we guarantee it. Buying your first bottle of Flexicus is100% Risk-Free. If you don't see dramatic performance-improving results by the time you've finished, simply return the bottle (even if it's empty) for a full refund – no hassles, no BS, no questions asked. We are absolutely confident in the quality and effectiveness of our product and stand behind it 100%.
Flexpet utilizes the same human-grade ingredients as Flexcin to maximize joint health and integrity. The combination of ingredients in FlexPet with CM8® is specially designed to nourish the joints, support stronger cartilage, help stimulate the lubricating fluid in the joints, and increase total mobility. Flexpet comes in a chewable tablet form that both dogs and cats love.  Guaranteed.  Made in the USA.
The FlexEquine® bucket contains an approximate 30 day supply of our exceptional FlexEquine formula. FlexEquine utilizes the same ingredients as our Flexcin formulas, but is specially designed for optimum joint health and integrity in horses. FlexEquine helps to enhance mobility and flexibility in horses suffering from stiff, sore, and painful joints.
CM8® (Cetyl Myristoleate)
CM8 is short for Cetyl Myristoleate, the most important of the Flexcin ingredients. Cetyl Myristoleate is the cetyl ester of myristoleic acid. CM8 has numerous biological functions, including working as an anti-inflammatory agent and a pain reliever.
Hydrolyzed Collagen Type II
Hydrolyzed Collagen Type II is a revolutionary ingredient that provides the body with "tissue oriented food" for maximum nutritional support. The most common structural protein in the body is collagen and HCII is the ultimate collagen supplement.
Glucosamine Sulfate Potassium
Glucosamine occurs naturally in the body and plays a key role in the construction of cartilage, the connective tissue that cushions the joints. Glucosamine stimulates the production of the key structural components of cartilage and the incorporation of sulfur into that cartilage.
MSM (Methyl Sulfonyl Methane)
MSM is another important sulfur compound found in Flexcin's great products. It has been specially formulated to increase the absorption rate of sulfur. This substance is a naturally occurring organic molecule found in the tissues of plants and animals.
Bromelain
Since joint pain and impairment is often caused by inflammation, our formulas include multiple ingredients with anti-inflammatory properties. Bromelain is one such ingredient and plays an important supporting role in the overall formulation.
Enzyme Blend
The enzyme blend is a complex proteinaceous substance that induces and accelerates the reactions necessary for metabolism. Digestion is dependent on enzymes produced naturally in the body. Large molecules like CM8® (Cetyl Myristoleate) require more effort for the body to digest.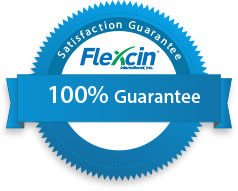 Guarantee
Our comprehensive formula ensures success, but of course nothing can legally claim to help 100% of the people 100% of the time. Although returns are few and far between, your customers and your business are both covered by a money-back guarantee.
With our products you are covered under two guarantees.
End User Guarantee:
If your customer is not satisfied with their results, they may return the empty bottle to your location for a full refund. Simply have a member of your staff call, fax or email us and let us know that you honored a return. We will send you a replacement immediately, free of charge.
Retailer Guarantee:
You are covered by a 90 day buy-back program. If you decide to carry one or all of our products in your store, you have the first 90 days to evaluate results, receive feedback and decide if they will be a permanent addition to your inventory. If, for whatever reason you decide against it, call, fax or email us and we will send a call tag for the product and buy back whatever you haven't sold